Happy Thursday! In case you haven't noticed, we are exactly one week away from Thanksgiving. (Just thought I'd throw that into this Sweet Potato Pie Smoothie post.)
Guess what? Williams-Sonoma asked me to help promote Smoothie Week. (Disclosure: As always, recipes and opinions are my own.) The idea behind Williams-Sonoma's Smoothie Week is to highlight unusual smoothie recipes, maybe those with an ingredient twist or an odd blend. I thought my Sweet Potato Pie Smoothie fit the bill. Not only is it loaded with flavor, it's an easy way to sneak an amazing amount of healthiness into your day before breakfast. (Hello beta-carotene, Vitamin A, Vitamin C and fiber.)
So here we are facing another holiday season filled with tempting pumpkin spice lattes and sweet potato pie.
Yummy, right?
But we all know those are calorie laden and who needs that? Not me, and probably not you either. Instead, I offer you this substitute—rich and creamy yet low in calories—a perfect holiday treat.
My sweet potato pie smoothie is made from local, seasonal ingredients (sweet potato and apple), basic pantry spices (cinnamon and allspice) and an ingredient you might not expect—blackstrap molasses. When you spoon out a teaspoon for this recipe, you will understand the phrase "slow as molasses". IT IS THICK, that's for sure, but unlike refined white sugar or corn syrup, blackstrap molasses is a natural sweetener that is actually good for us. This dark, syrupy byproduct made from the crystallization of sucrose is impressively high in vitamins and minerals including iron, calcium, manganese, copper, potassium, magnesium, selenium, vitamin B-6 and niacin.
Now, let's get started. First, grab your blender. Here's mine.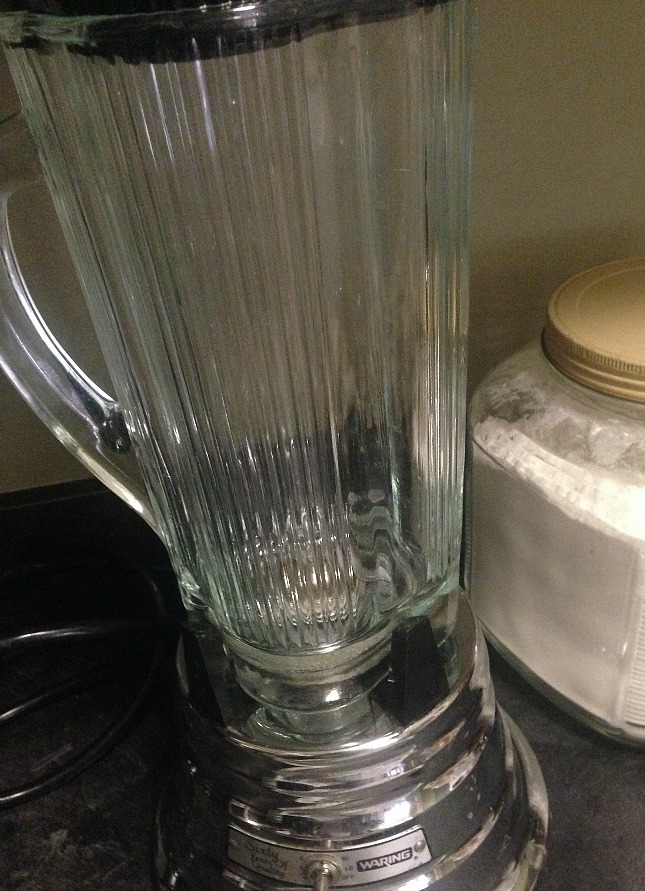 It may not look very exciting, but the mere fact that I've had this Waring blender (purchased at Williams-Sonoma) my entire adult life, makes it pretty special. The blender still works like new, and I use it several times a week.
An excellent blender is a kitchen necessity, don't you agree? If you're in the market for a new blender or juicer or smoothie machine, add one of THESE to your Christmas list now, and you'll probably never need another one, at least that's been my experience.
Okay, moving along. Gather and measure your ingredients. I always do this no matter what I'm making. This makes me feel organized even when I'm not.
I bet you thought we'd never get to the recipe. Here it is.
[amd-zlrecipe-recipe:32]
Two final notes. If you don't have vanilla bean paste, buy some before you begin your holiday baking. I love it not only because it adds richness and an extra depth of flavor to your creations but also because of the tiny vanilla bean specks visible in whatever you are making. Also, I used two dashes of cinnamon in this recipe. I'm not exactly sure how much a dash is but I have a tiny little spoon that says dash. Probably close to 1/8 teaspoon?
For a different spin on the presentation, pour your sweet potato smoothie into shot glasses. Shots make every gathering a party!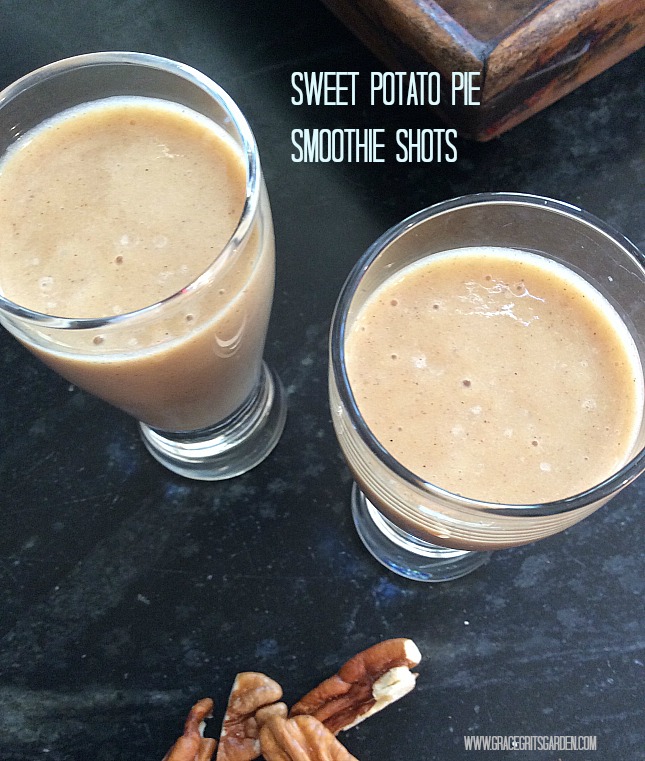 Grace Grits and Gardening
Farm. Food. Garden. Life.
[tweetthis]Sweet Potato Pie Smoothie made with #Blackstrap #Molasses. Shut my mouth! #SmoothieWeek @WilliamsSonoma #healthy[/tweetthis]
"Song, song of the south, sweet potato pie and I shut my mouth." – Alabama, Song of the South